Regular price
$239.90
Sale price
$119.95
Unit price
per
Sale
Sold out
🎁 2022 Promotion pour les fêtes de fin d'année!
🎁 50% de réduction sur tout le site!
🎁 Livraison gratuite dans l'UE!

Tout ce dont vous avez besoin pour une escapade en plein air parfaite !
Le camping n'a jamais été aussi facile ! Le dernier mécanisme perfectionné d'autoverrouillage ouvre la tente instantanément et permet d'éviter les pertes de temps et d'énergie, ou pire encore, de se faire dévorer par un ours.
Grâce à notre technologie, il suffit d'une seule personne pour monter la tente, ce qui ne prend que quelques secondes ! Ainsi, vous pouvez passer plus de temps de qualité avec votre famille et vos amis et profitez de la détente en camping.
Dites adieu à l'assemblage compliqué des poteaux !
La tente 3 Secs Tent est autoportante. Elle est livrée en une seule pièce et est prête à être utilisée dès sa sortie du sac ! Il n'est pas nécessaire d'assembler les poteaux comme dans d'autres tentes ; le montage est rapide, sans problème et simple !
Il suffit de 3 étapes simples pour le monter et de 3 étapes simples pour le démonter, ce qui vous laisse plus de temps pour vous détendre et faire le vide dans votre esprit. Imaginez le temps que vous économiserez dans les années à venir !
Pour ranger vos affaires avant de rentrer à la maison à la fin de votre voyage de camping ? L'armature préassemblée de la tente rend l'emballage moins pénible, et la tente se glisse dans le sac sans aucune difficulté !
Conçue avec soin et comportant les caractéristiques que vous avez besoin pour votre tente !
La tente 3 Secs est une tente à double paroi avec une moustiquaire intégrée et un indice d'humidité de 3000 mm. Elle est entièrement scellée et protégée par des coutures étanches pour empêcher l'eau de pénétrer ! La garantie de vous garder au sec toute la nuit !
Elle possède une armature rigide et stable construite pour résister à un vent fort de 64 km/h et des mâts de tente en fibre de verre durables et très résistants pour plus de stabilité.
Elle peut accueillir confortablement jusqu'à 3 personnes, ce qui en fait la tente parfaite pour vous et votre famille ! La tente est fabriquée avec un tissu Oxford 210D de première qualité pour une utilisation durable et des fermetures à glissière SBS à double sens pour un fonctionnement durable et fluide.
Une polyvalence extrême pour toutes les occasions !
La tente 3 Secs Tent est dotée de moustiquaires sur les 4 côtés, ce qui permet de garder la fraîcheur à l'intérieur tout en empêchant les insectes de sortir.
Elle est dotée de 2 points d'accès de chaque côté pour permettre un accès facile des deux côtés de vos compagnons de tente !
C'est un abri facile à monter et à démonter. La conception pop-up fait également de cette tente une option très pratique. Il conviendra à tous vos prochains voyages de camping ou à vos fêtes d'arrière-cour.
La tente 3 Secs Tent est un excellent choix pour vos aventures en plein air ! Plus de montage stressant de la tente, mais seulement un voyage de camping relaxant !
Tailles:
Petite Tente (Pour 1 à 2 personnes): 186cm x 140cm x 100cm (Packed Size: 68cm x 15cm x 15cm); 3.3kg
Grande Tente (Pour 2 à 3 personnes): 200cm x 170cm x 115cm (Packed Size: 77cm x 15cm x 15cm); 3.7kg
Livraison gratuite et garantie de remboursement de 30 jours !
Actuellement, nous offrons la livraison standard gratuite pour toutes les commandes ! Notre entrepôt est situé dans la charmante ville de Venlo, aux Pays-Bas.
Ne vous laissez pas berner par les imitateurs. Rien d'autre ne s'approche de la qualité, de la durabilité et de l'innovation de la tente 3 Secs. Nous garantissons que vous l'aimerez, ou que vous serez remboursé.
Commandez la vôtre dès maintenant pour bénéficier de 50% de réduction pendant notre promotion pour les fêtes de fin d'année ! (Offre valable jusqu'à épuisement des articles !)
Ce que les gens disent :
Caractéristiques :
✅ Se monte et se démonte en quelques secondes seulement
✅ Tente multi-saisons ; idéale pour l'été, l'automne et le printemps
✅ Poids léger de l'emballage
✅ Sac de transport et de rangement GRATUIT
✅ Accueille confortablement 2 à 4 personnes
✅ Imperméable et livré avec une protection contre la pluie
✅ Fabriqué avec un tissu polyester Oxford 210D solide et durable
✅ Livré avec des piquets de tente et des cordes de haubanage
✅ 2 Portes pour une entrée et une sortie faciles et une bonne ventilation
✅ Fenêtres à mailles pour se protéger des insectes, punaises et moustiques
✅ Parfait pour offrir un cadeau à vos amis et à votre famille
✅ Parfait pour les sorties en camping avec la famille ou pendant la retraite
✅ Parfait pour les soirées cinéma, les soirées pyjama, le camping en voiture, à la plage ou dans le jardin, la randonnée, le sac à dos ou le terrain de jeu des enfants
View full details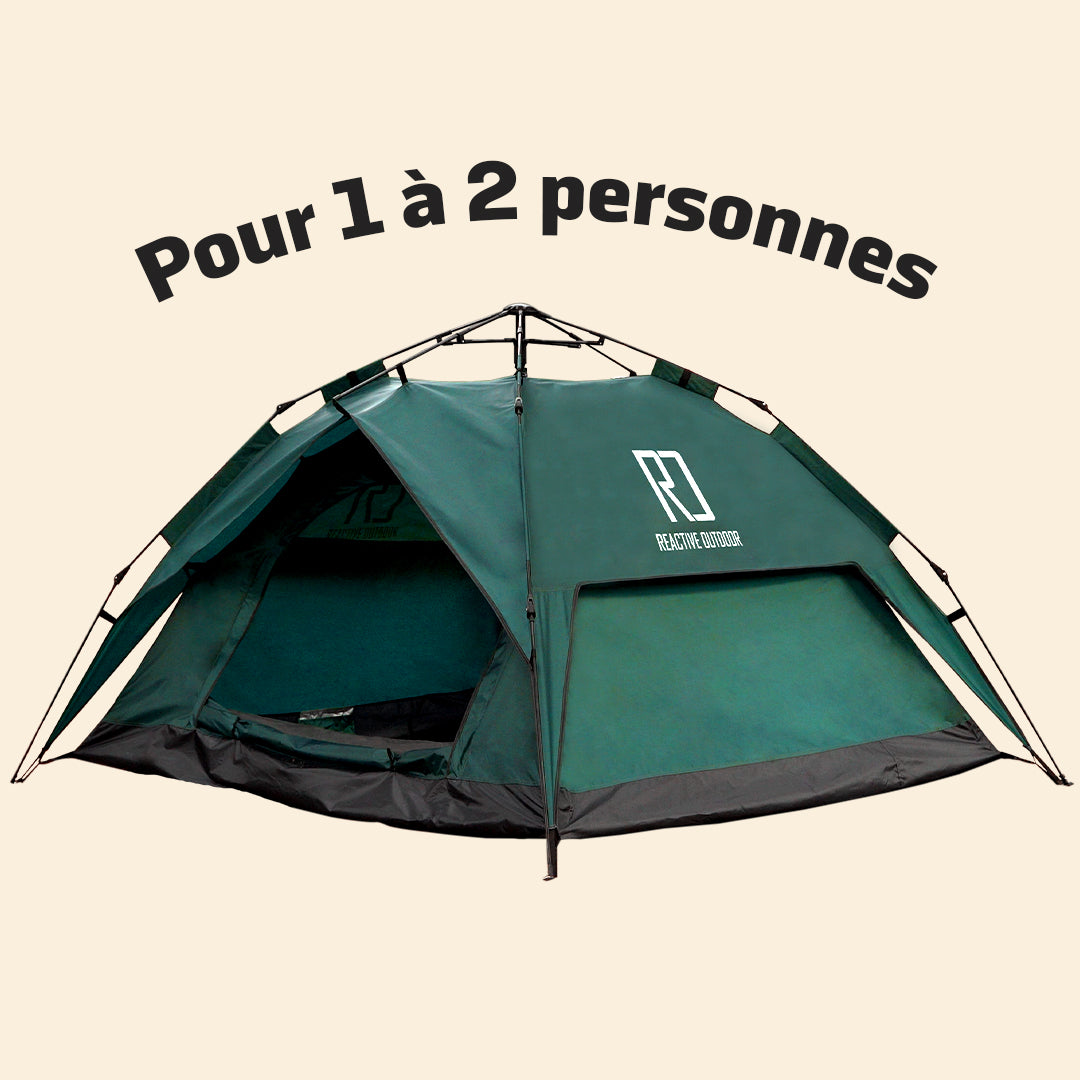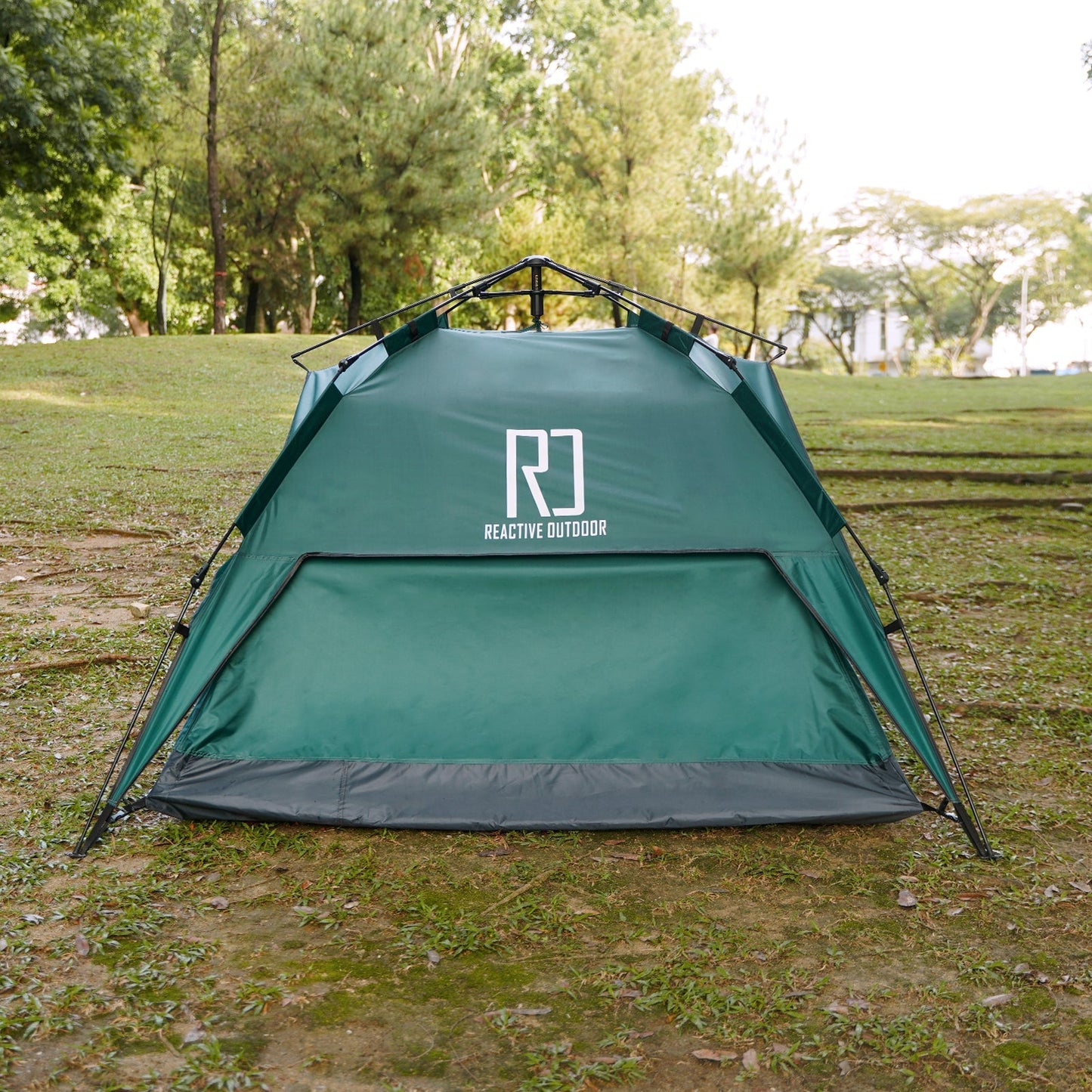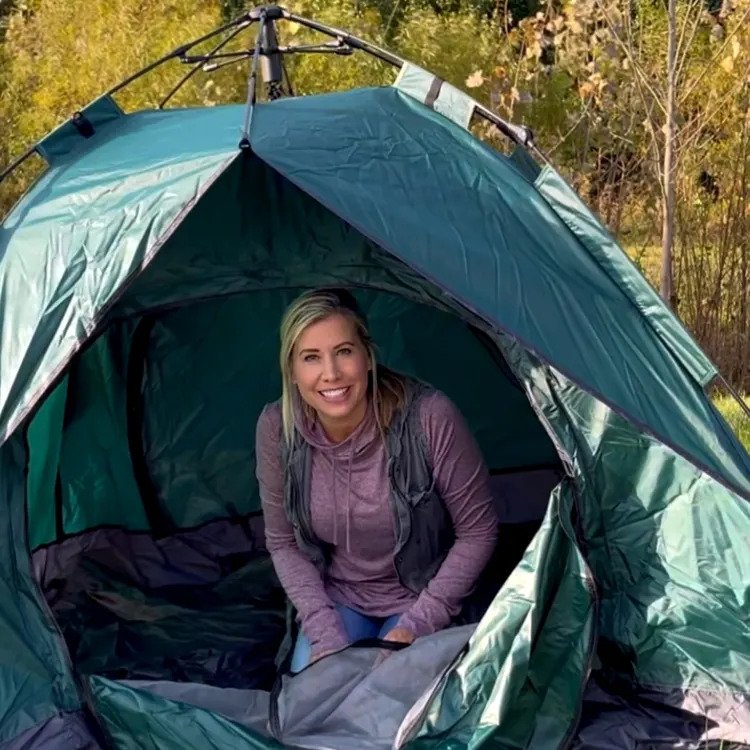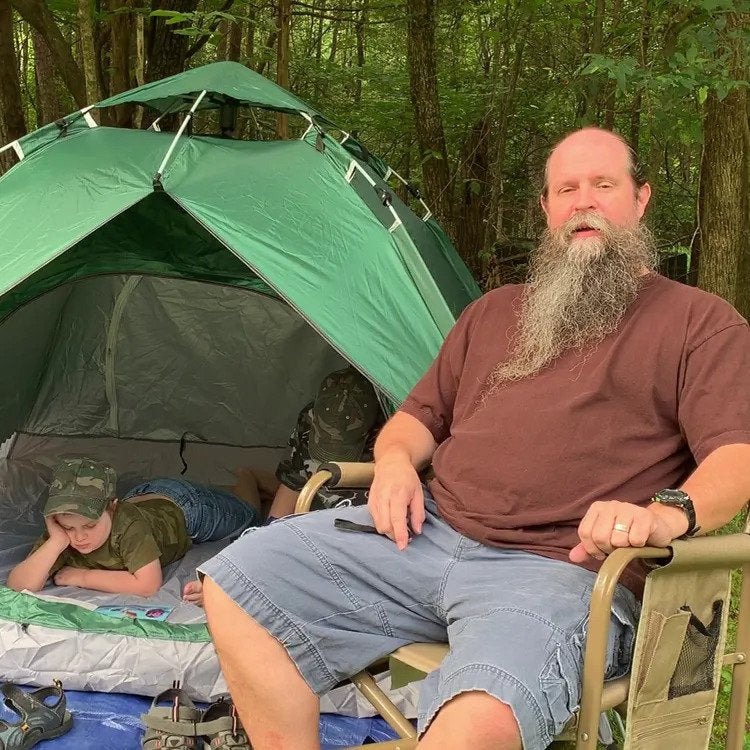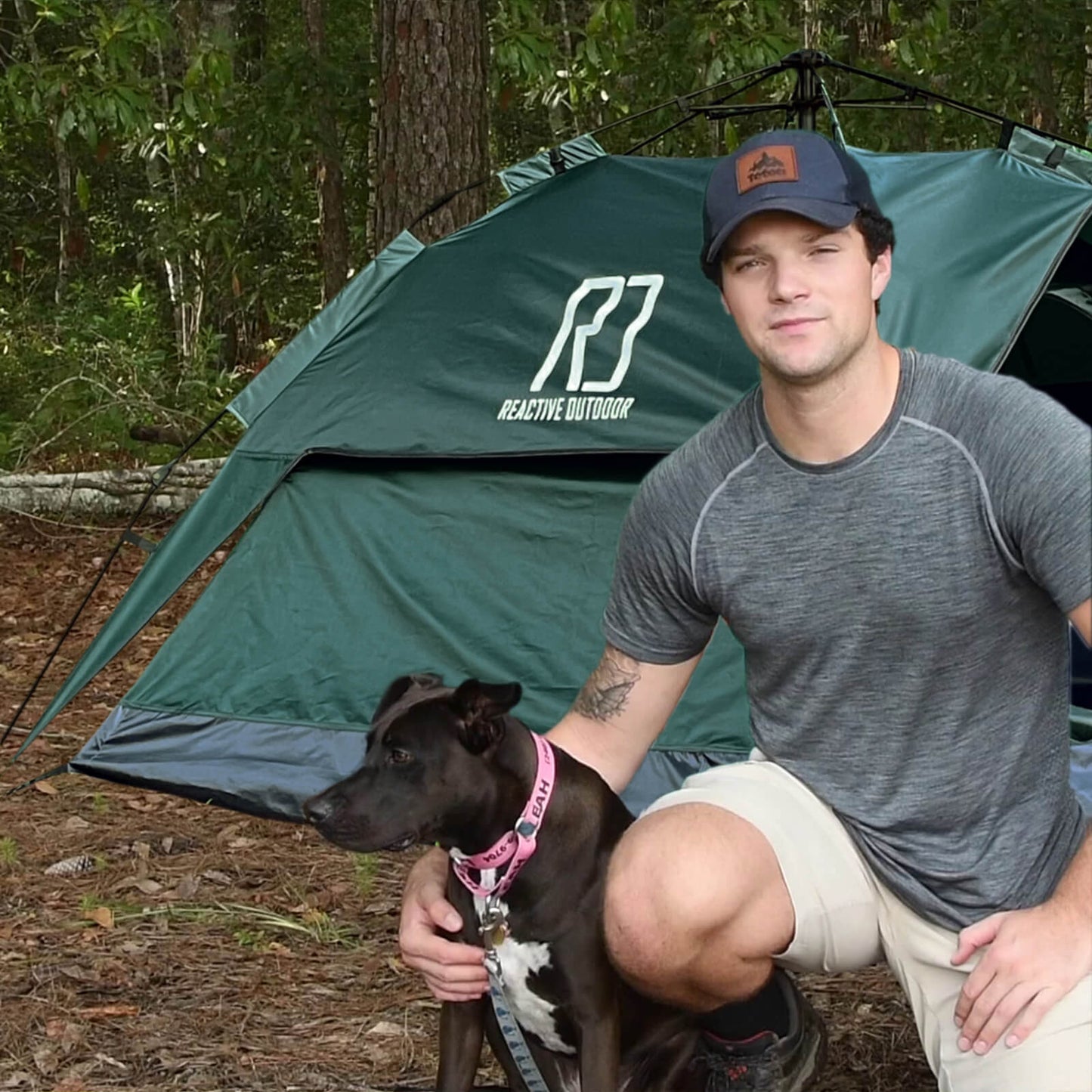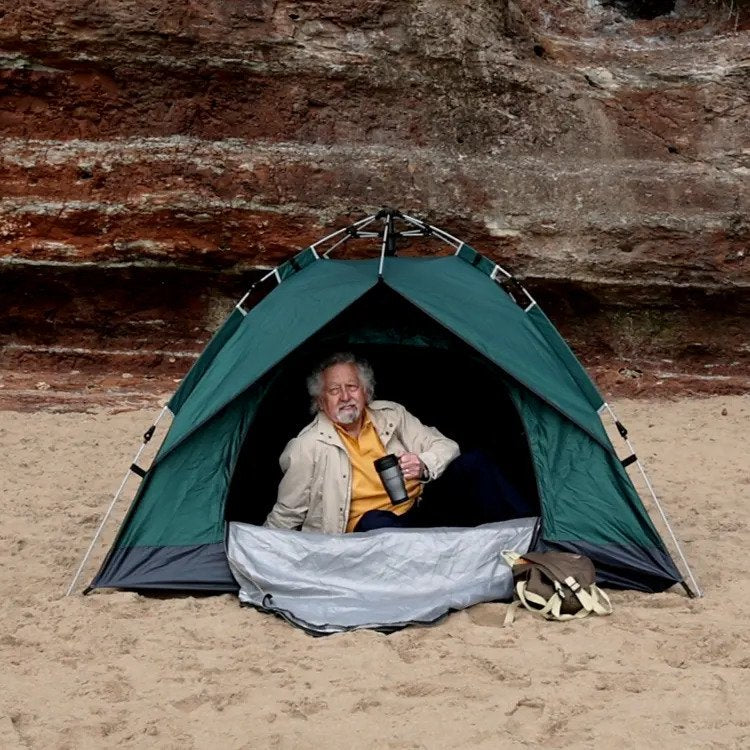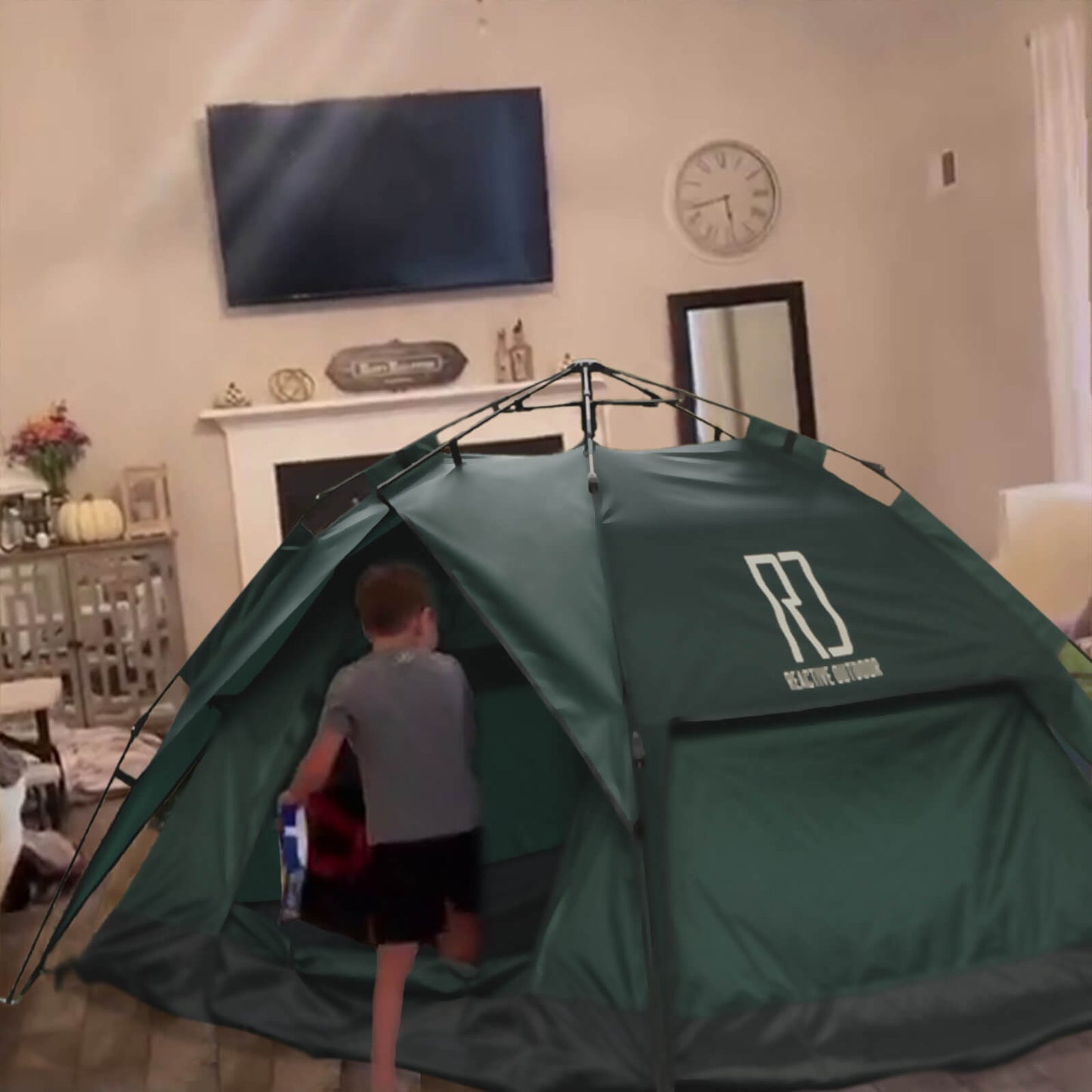 Frequently Asked Questions
Is this too good to be true?

It's just good! It absolutely works as easy as you've seen in our videos! It sets up and takes down in seconds! It's not just us, but it's in content posted by other campers as well!
What is the quality standard of 3 Secs Tent?

Yes! We have specifically designed this tent to be waterproof and rainproof! It also comes with a rainfly!
How heavy is the tent?

Small Tent: 7lbs (3.3kg) // Large Tent: 8lbs (3.7kg)
How popular is Reactive Outdoor's tent?

With around 56,000 tents grabbed by nature lovers, the 3 Secs Tent has made camping smooth for families across the world! To meet the growing demand, we've started shipping rapidly from our warehouses in Nevada (US), Birmingham (UK), Melbourne (AU) andNetherlands(EU)!
Can a queen-sized air bed fit in?

Yes,a standard queen-sized air bed can fit into the tent. (Standard Queen Size: 60" x 80" / 152cm x 203cm).
Does the tent come with ties, cord & pins to secure the tent to the ground?

Yes, a set of stakes and guy lines comes with every purchase. We'll also provide you a FREE carrying storage bag for your tent!
Where do you ship from?

All Reactive Outdoor orders ship directly from our warehouse in the lovely state of Nevada, USA!

For Australia and New Zealand customers, we will be shipping from our Melbourne warehouse!

For the UK, we will be shipping from our Birmingham warehouse!

For Europe, we will be shipping from our Venlo, Netherlands warehouse!
How long will it take for my order to arrive?

All orders will be dispatched from our warehouse within 2 business days. We have warehouses in the US, UK, EU and AU. Your orders will be dispatched from the nearest warehouse based on the address given during checkout.

We ship Monday through Friday, excluding weekends and holidays.

UK Domestic Shipping

Available UK Shipping Methods:

Standard Tracked Shipping: 2-3 business days.

Expedited Tracked Shipping: 1-2 business days.

We use Hermes and Yodel for your domestic delivery!

US Domestic Shipping

Available US Shipping Methods:

Standard Tracked Shipping: 2-4 business days.

Expedited Tracked Shipping: 1-3 business days.

We use a combination of FedEx and UPS, depending on the shipping address. Our system will automatically choose the fastest courier for your shipping address!

Europe Domestic Shipping

Available Europe Shipping Methods:

Insured Tracked Shipping: 2-5 business days.

We use DPD and GLS for your domestic delivery!

Australia Domestic Shipping

Available Australia Shipping Methods:

Standard Tracked Shipping: 3-7 business days. (7 days being Western Australia)

Expedited Tracked Shipping: 2-3 business days. (Longer if outside of the metropolitan area)

We use Australia Post for your domestic delivery!

If you do not receive your order within the estimated delivery time, please check your mailbox and tracking number, then contact us and we will make sure to get you camping in no time!
HIGH QUALITY

Manufactured with highest quality materials & manufacturing standards

FREE SHIPPING

We provide free US delivery on all our products

SECURE PAYMENT

Your payments are secure with 256bit secure SSL

30-DAY MONEY BACK GUARANTEE

You can simply contact our customer service and have them return your order