Regular price
$239.90
Sale price
$119.95
Unit price
per
Sale
Sold out
🎁 Neujahrsverkauf!
🎁 50% RABATT AUF ALLE PRODUKTE!
🎁 Kostenloser EU-Versand!

Alles, was Sie für den perfekten Outdoor-Urlaub brauchen!
Zelten war noch nie so einfach! Der modernste Selbst-verriegelungsmechanismus öffnet das Zelt sofort, ohne Zeit- und Energieverschwendung – oder gar noch schlimmeres: es hilft Ihnen zu vermeiden von einem Bären gefressen zu werden! 
Wir wissen, dass es nach einem langen Fahrtag ermüdend sein kann. Mit unserer Zelt-Technologie wird nur 1 Person benötigt, um das Zelt aufzubauen – in nur ein paar Sekunden! Genießen Sie mehr Zeit mit anderen Motorradfahrern verbringen in Ihrem super-entspannenden Zelt, für den perfekten Urlaub. 
Sagt Tschüss zu komplizierten Stangenmontage!
Das 3-Sekunden-Zelt ist freistehend. Es kommt in einem Stück und ist sofort einsatzbereit! Es ist keine Stangenmontage wie bei anderen Zelten erforderlich; das macht die Montage schnell, problemlos und unkompliziert!
Nur 3 einfache Schritte zum Aufbau und 3 einfache Schritte zum Abbauen sind erforderlich. Somit haben Sie mehr Zeit, sich zu entspannen und die Natur zu genießen. Stellen Sie sich vor, wie viel Zeit Sie in den kommenden Jahren sparen können!
Zu faul, um für die Heimreise am Ende des Zeltens einzupacken? Der vormontierte Zelt-Rahmen macht das Packen super einfach, und das Zelt passt problemlos in die Tasche!
Geniales Design mit durchdachten Zeltfunktionen!
Das 3-Sekunden-Zelt ist doppelwandig, mit eingebautem Über-Zelt und hat eine HH-Einstufung von 3000 mm. Es ist vollständig versiegelt und mit versiegelten Nähten geschützt, damit kein Wasser eindringen kann! Sie werden nachts garantiert trocken bleiben!
Das Zelt hat einen festen und stabilen Rahmen, der 60 km/h starkem Wind standhalten kann. Der Rahmen ist langlebig und ist aus dauerhaften Fiberglas-Zeltstangen gebaut, für extra Stabilität. 
Das Zelt bietet bequem Platz für bis zu 3 Personen und ist somit perfekt für dich & deine Motorradausrüstung! Das Zelt besteht aus hochwertigem 210D Oxford-Gewebe für langlebigen Gebrauch, und hat 2-Wege-SBS-Reißverschlüsse für dauerhafte und reibungslose Öffnungen.
Extreme Vielseitigkeit für alle Gelegenheiten!
Das 3-Sekunden-Zelt hat Maschengitter an allen 4 Seiten: innen bleibt's kühl, und Insekten bleiben draußen.
Es verfügt über 2 Zugangspunkte auf beiden Seiten, damit jeder leicht herein und heraus kann!
Ein Zelt zum einfachen Auf- und Abbauen. Das Pop-up-Design macht dieses Zelt zu einer super praktischen Option. Es passt perfekt zu jedem Motorrad Campingausflüge.
Das 3-Sekunden-Zelt ist die ideale Wahl für all Ihre Outdoor-Abenteuer! Kein stressiger Zeltaufbau mehr, sondern nur noch ein entspannter Campingausflug!
Größen:

Kleines Zelt (Für 1-2 Pers): 186cm x 140cm x 100cm (Packet Maße: 68cm x 15cm x 15cm); 3.3kg
großes Zelt (Für 2-3 Pers): 200cm x 170cm x 115cm (Packet Maße: 77cm x 15cm x 15cm); 3.7kg
Kostenloser Versand & 30 Tage Geld-zurück-Garantie!
Derzeit bieten wir kostenlosen Standardversand für alle Bestellungen an! Unser Lager befindet sich in der wunderschönen Stadt Venlo in den Niederlanden.
Lassen Sie sich nicht von Nachahmern täuschen. Keine anderen Anbieter kommen der Qualität, Langlebigkeit und Innovation des 3-Sekunden-Zeltes nahe. Wir garantieren, dass Sie das Zelt lieben werden. Wenn nicht, haben wir eine Geld-zurück-Garantie.
Jetzt Bestellen um 50 % Rabatt zu erhalten in unserem Neujahrsverkauf! (Angebot gültig bis ausverkauf!)
Kundenrezensionen:
Eigenschaften:
✅ Auf- und Abbau in ein paar Sekunden
✅ Ein Zelt für mehrere Jahreszeiten; Ideal für Sommer, Herbst und Frühling
✅ Genug Platz für 2-4 Personen
✅ Wasserdicht und kommt mit Über-Zelt
✅ Hergestellt aus starkem und strapazierfähigem 210D Polyester-Oxford-Gewebe
✅ Ink. Zeltheringen und Abspannleinen
✅ 2 Türen für einfachen Ein- und Ausstieg und gute Belüftung
✅ Mesh-Fenster für Insektenschutz gegen Käfern und Mücken
✅ Das perfekte Geschenk für Freunde und Familie
✅ Perfekt für Campingausflüge mit der ganzen Familie oder allein als Rentner
✅ Perfekt für Kinoabende, Pyjamaparty, Auto-, Strand- und Gartencamping, Wandern, Trekking oder für Kinder zum spielen
View full details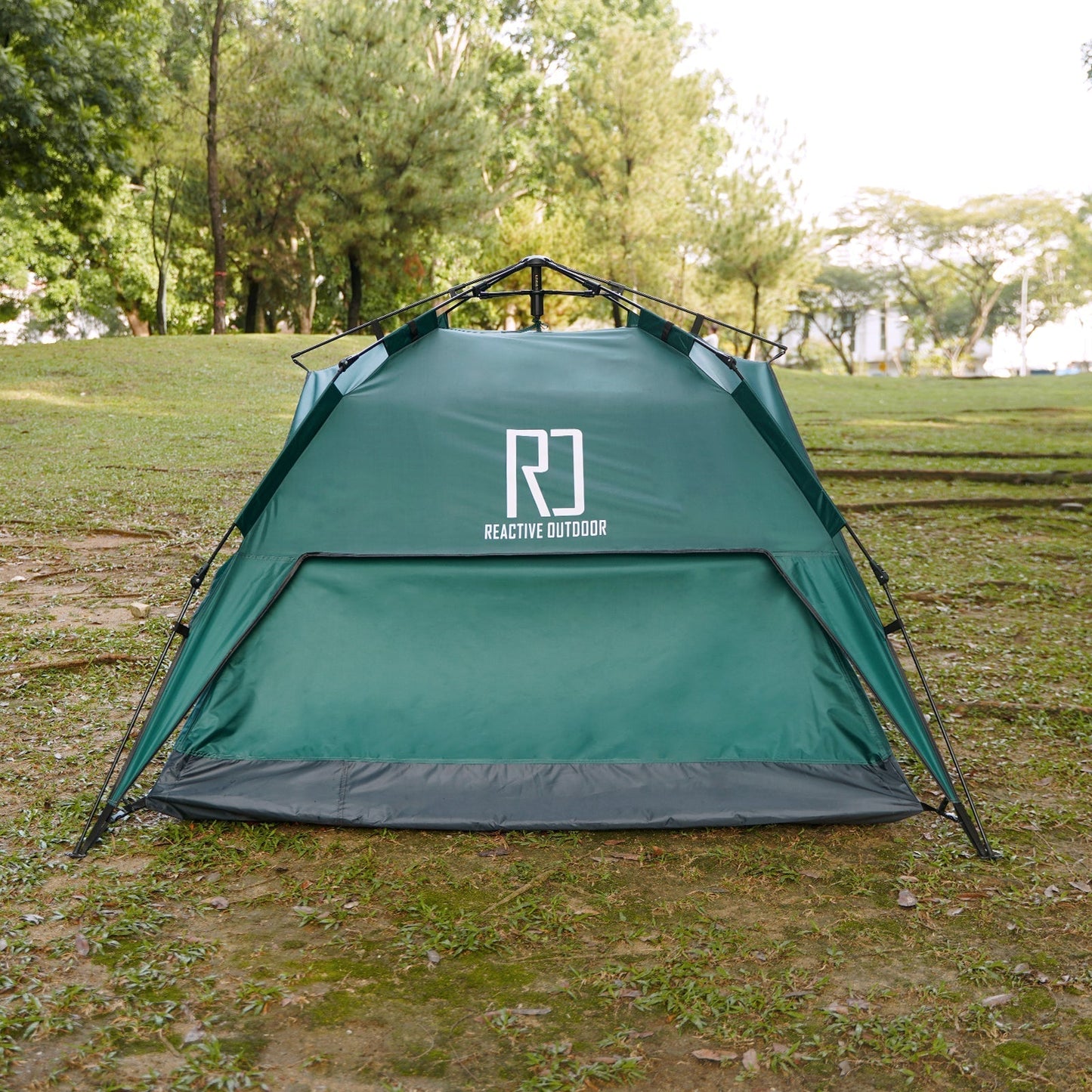 Frequently Asked Questions
Is this too good to be true?

It's just good! It absolutely works as easy as you've seen in our videos! It sets up and takes down in seconds! It's not just us, but it's in content posted by other campers as well!
What is the quality standard of 3 Secs Tent?

Yes! We have specifically designed this tent to be waterproof and rainproof! It also comes with a rainfly!
How heavy is the tent?

Small Tent: 7lbs (3.3kg) // Large Tent: 8lbs (3.7kg)
How popular is Reactive Outdoor's tent?

With around 56,000 tents grabbed by nature lovers, the 3 Secs Tent has made camping smooth for families across the world! To meet the growing demand, we've started shipping rapidly from our warehouses in Nevada (US), Birmingham (UK), Melbourne (AU) andNetherlands(EU)!
Can a queen-sized air bed fit in?

Yes,a standard queen-sized air bed can fit into the tent. (Standard Queen Size: 60" x 80" / 152cm x 203cm).
Does the tent come with ties, cord & pins to secure the tent to the ground?

Yes, a set of stakes and guy lines comes with every purchase. We'll also provide you a FREE carrying storage bag for your tent!
Where do you ship from?

All Reactive Outdoor orders ship directly from our warehouse in the lovely state of Nevada, USA!

For Australia and New Zealand customers, we will be shipping from our Melbourne warehouse!

For the UK, we will be shipping from our Birmingham warehouse!

For Europe, we will be shipping from our Venlo, Netherlands warehouse!
How long will it take for my order to arrive?

All orders will be dispatched from our warehouse within 2 business days. We have warehouses in the US, UK, EU and AU. Your orders will be dispatched from the nearest warehouse based on the address given during checkout.

We ship Monday through Friday, excluding weekends and holidays.

UK Domestic Shipping

Available UK Shipping Methods:

Standard Tracked Shipping: 2-3 business days.

Expedited Tracked Shipping: 1-2 business days.

We use Hermes and Yodel for your domestic delivery!

US Domestic Shipping

Available US Shipping Methods:

Standard Tracked Shipping: 2-4 business days.

Expedited Tracked Shipping: 1-3 business days.

We use a combination of FedEx and UPS, depending on the shipping address. Our system will automatically choose the fastest courier for your shipping address!

Europe Domestic Shipping

Available Europe Shipping Methods:

Insured Tracked Shipping: 2-5 business days.

We use DPD and GLS for your domestic delivery!

Australia Domestic Shipping

Available Australia Shipping Methods:

Standard Tracked Shipping: 3-7 business days. (7 days being Western Australia)

Expedited Tracked Shipping: 2-3 business days. (Longer if outside of the metropolitan area)

We use Australia Post for your domestic delivery!

If you do not receive your order within the estimated delivery time, please check your mailbox and tracking number, then contact us and we will make sure to get you camping in no time!
HIGH QUALITY

Manufactured with highest quality materials & manufacturing standards

FREE SHIPPING

We provide free US delivery on all our products

SECURE PAYMENT

Your payments are secure with 256bit secure SSL

30-DAY MONEY BACK GUARANTEE

You can simply contact our customer service and have them return your order