Regular price
$279.90
Sale price
$139.95
Unit price
per
Sale
Sold out
🎁 Nieuwjaarsuitverkoop!
🎁 50% KORTING OP DE HELE WEBSITE!
🎁 Gratis verzending in de EU!

Alles Wat Je Ooit Nodig Hebt Voor Het Perfecte Uitje In De Buitenlucht!
Kamperen was nog nooit zo eenvoudig! Het nieuwste geavanceerde zelfvergrendelingsmechanisme klapt de tent direct open en zorgt ervoor dat er geen tijd, energie wordt verspild, of erger nog, wordt opgegeten door een beer.

Met onze technologie kun je in je eentje de tent opzetten, wat je in een paar seconden kunt doen! Zo breng je meer quality time door met familie & vrienden en geniet je van een 100% ontspannen kampeerervaring.
Zeg Vaarwel Tegen Ingewikkelde Tenten Opzetten!
3 Sec Tent is vrijstaand. Het is één stuk en is klaar voor gebruik wanneer je het uit de zak haalt! Je hebt geen palen zoals bij andere tenten; het maakt het opzetten snel, probleemloos en ongecompliceerd!
Er zijn slechts 3 eenvoudige stappen nodig om op te zetten en 3 eenvoudige stappen om af te breken, waardoor je meer tijd hebt om te ontspannen en je hoofd leeg te maken. Stel je je eens voor hoeveel tijd je de komende jaren kan besparen!
Om in te pakken voordat je naar huis gaat aan het einde van je kampeertrip? Het voorgemonteerde frame van de tent maakt het inpakken minder een karwei en de tent past zonder enige moeite in de tas!
Zorgvuldig Ontworpen Met Tentfuncties Die Je Nodig Hebt!
3 Sec Tent is een dubbelwandige tent met een ingebouwde buitentent en heeft een HH-classificatie van 3000 mm. Het is geheel geseald en beschermd met getapete naden om te voorkomen dat er water binnendringt! Zo blijf je 's nachts gegarandeerd droog!
Het heeft een stevig en stabiel frame dat is gebouwd om 64 km/u sterke wind te weerstaan en duurzame en zeer duurzame tentstokken van glasvezel voor meer stabiliteit.
Het biedt comfortabel ruimte aan maximaal 3 personen, waardoor het perfect is voor jou en je gezin! De tent is gemaakt van hoogwaardige 210D Oxford-stof voor langdurig gebruik en 2-weg SBS-ritsen voor een duurzame en soepele ritssluiting.
Extreme Veelzijdigheid Voor Iedere Gelegenheid!
De 3 Sec Tent heeft aan alle 4 de zijden gaasschermen, waardoor het binnen koel blijft en insecten buiten worden tegengehouden.
Het wordt geleverd met 2 toegangspunten aan weerszijden voor eenvoudige toegang vanaf beide kanten van je tentgenoten!
Het is een eenvoudig op te zetten en af te breken. Het pop-up ontwerp maakt deze tent ook een superhandige optie. Het past bij al je komende kampeertrips of feestjes in de achtertuin.

3 Sec Tent is een uitstekende keuze voor je buitenavonturen! Geen stress meer bij het opzetten van een tent, maar gewoon ontspannen kamperen!

Maten:
Kleine Tent (Voor 1-2 Personen): 200cm x 135cm x 130cm (Draagbaar Formaat: 69cm x 15cm x 15cm); 3.7kg
Grote Tent (Voor 2-3 Personen): 210cm x 177cm x 145cm (Draagbaar Formaat 77cm x 15cm x 15cm); 4.2kg
Gratis Verzending & 30 Dagen Geld-Terug-Garantie!
Momenteel bieden we gratis standaard verzending voor alle bestellingen! Ons magazijn bevindt zich in de mooie stad Venlo, Nederland.
Laat je niet misleiden door kopieën. Niets komt in de buurt van de kwaliteit, duurzaamheid en innovatie van de 3 Sec Tent. We garanderen dat je het geweldig gaat vinden, en anders krijg je je geld terug.
BESTEL DIE VAN JOU NU EN KRIJG 62% KORTING TIJDENS ONZE FLASH SALE! (AANBIEDING GELDIG TOT ITEMS UITVERKOCHT ZIJN!)
Wat Onze Klanten Zeggen:
EIGENSCHAPPEN:
✅ Opzetten & Afbreken in Een Paar Seconden
✅ Tent Voor Meerdere Seizoenen; Geweldig Voor Zomer, Herfst & Lente
✅ Geschikt voor 2-4 Personen
✅ Waterdicht & Wordt Geleverd Met Buitentent
✅ Gemaakt Met Sterke & Duurzame 210D Polyester Oxford-stof
✅ Wordt Geleverd Met Haringen En Scheerlijnen
✅ 2 Deuren Voor Eenvoudige Toegang En Geweldige Ventilatie
✅ Gaasramen Om Insecten, Insecten En Muggen Te Voorkomen
✅ Perfect Om Cadeau Te Krijgen Voor Je Vrienden En Familie
✅ Perfect Voor Kampeertochten Met Familie Of Tijdens Pensioen
✅ Perfect Voor Filmavonden, Logeerpartijtjes, Auto-, Strand- & Achtertuinkamperen, Wandelen, Backpacken Of Kinderspeelplaats
View full details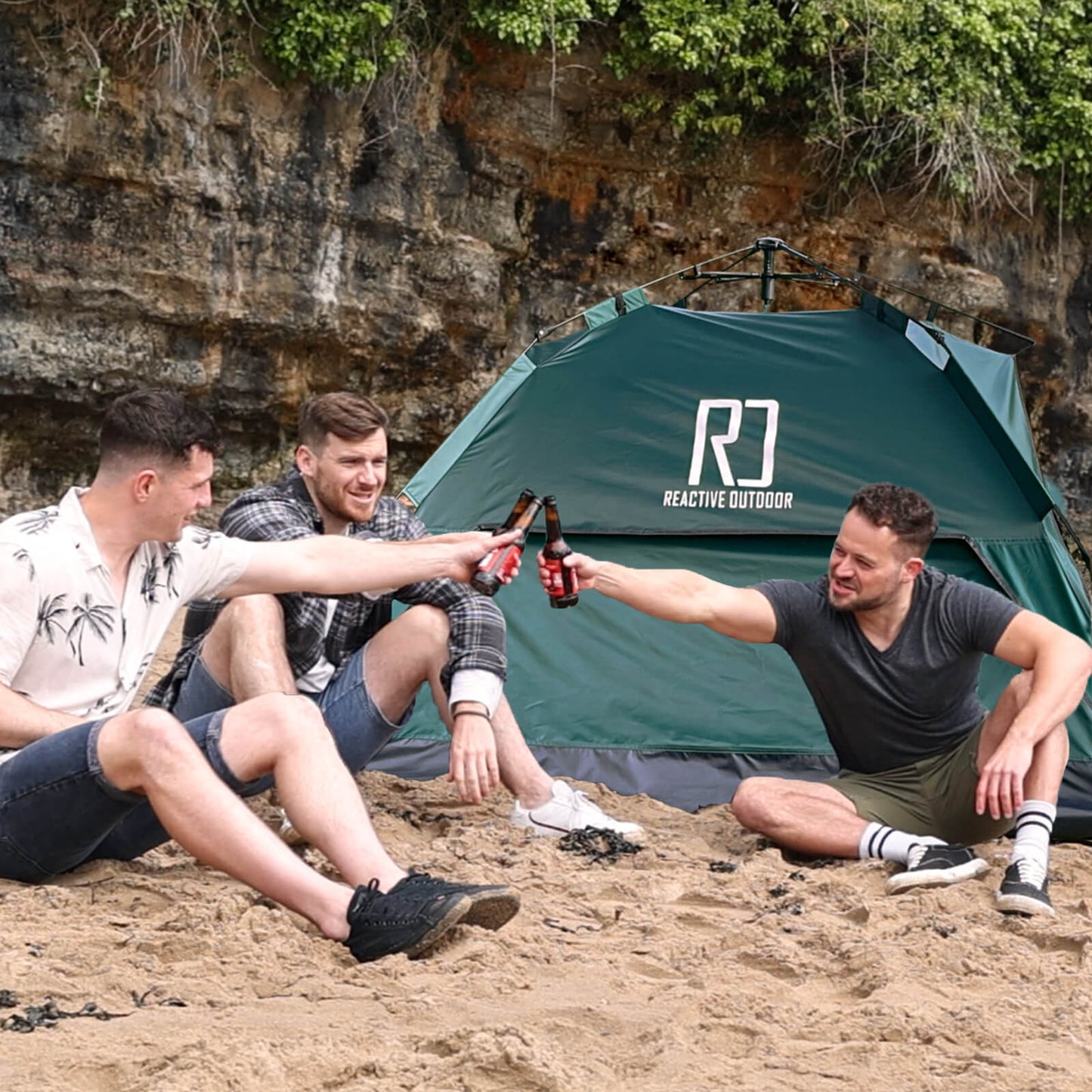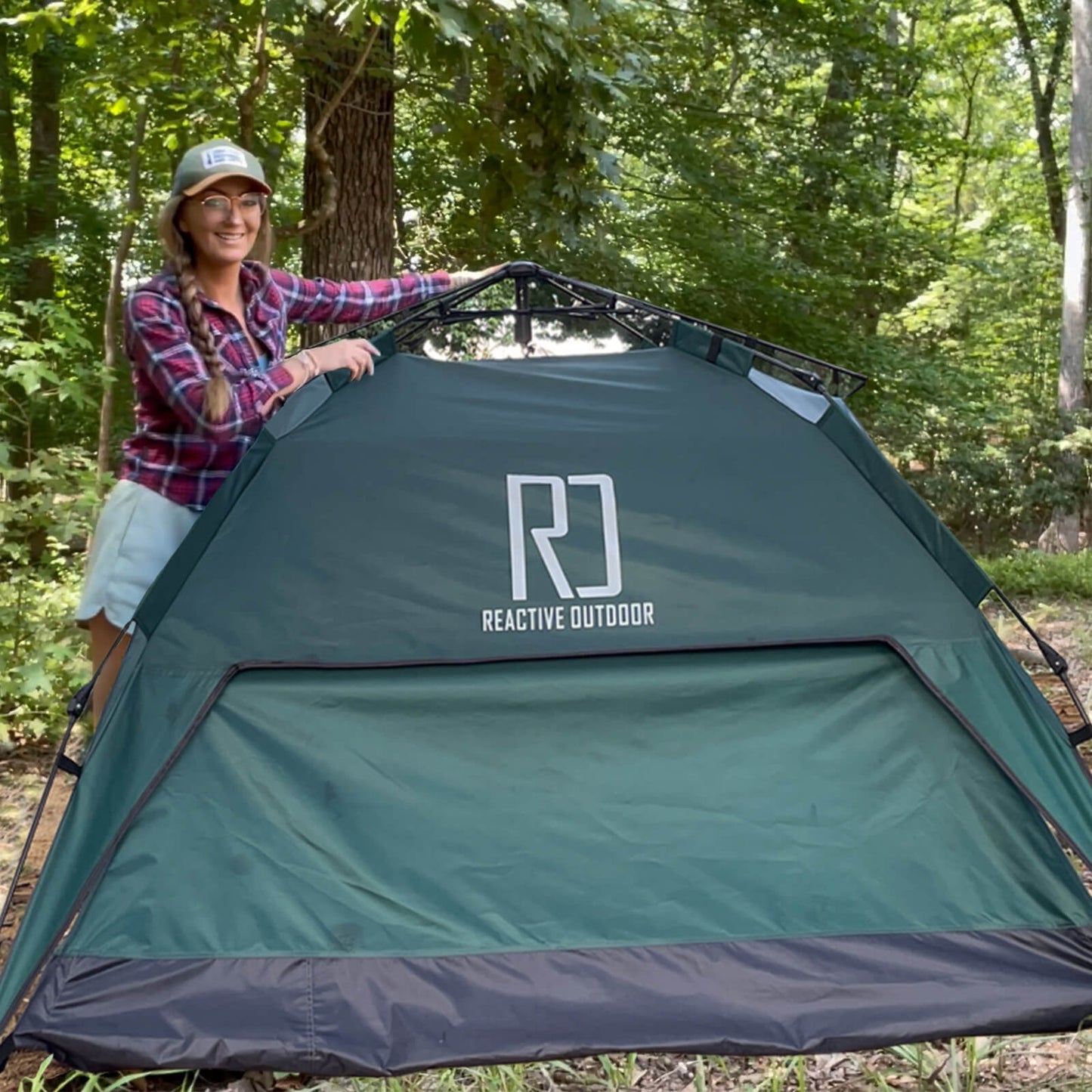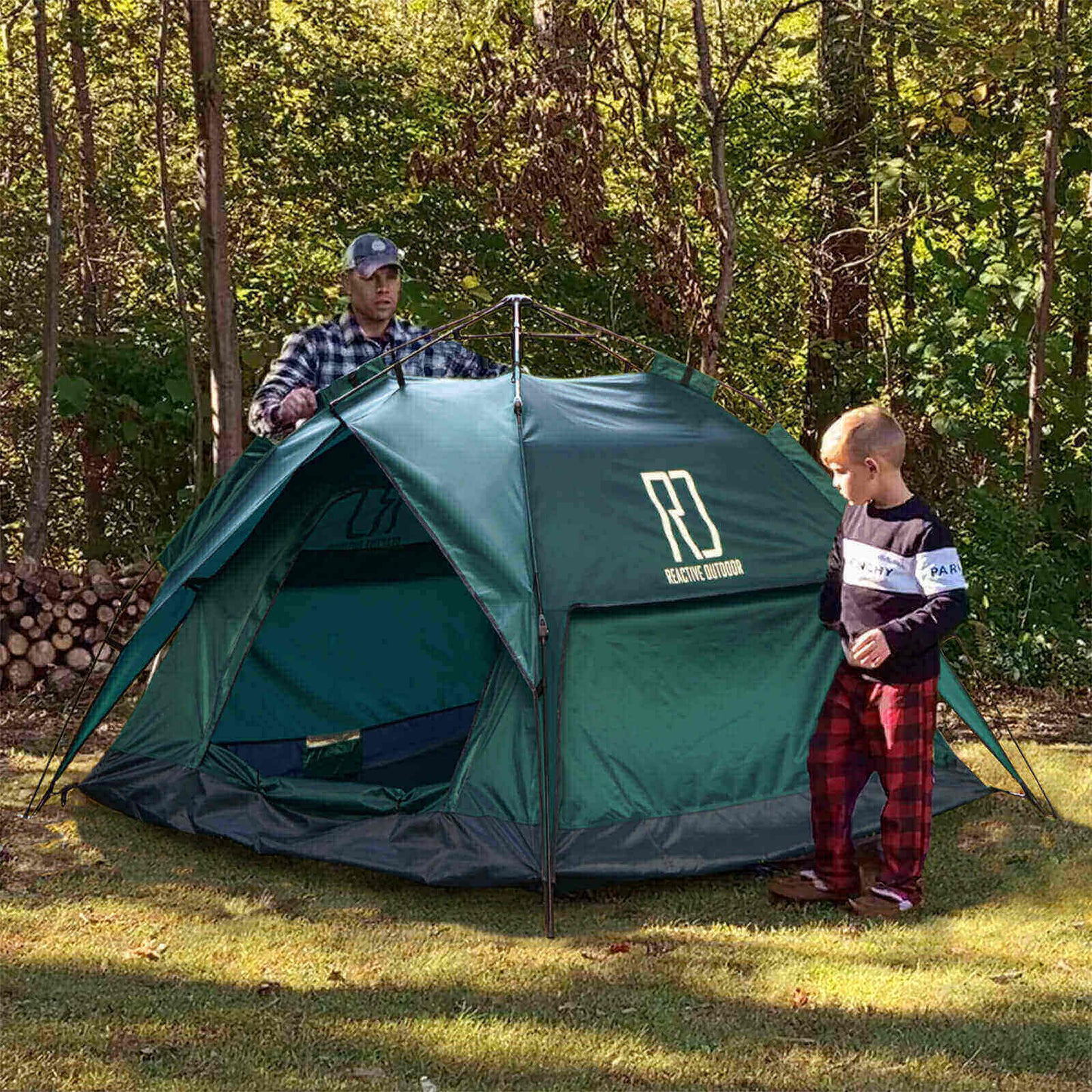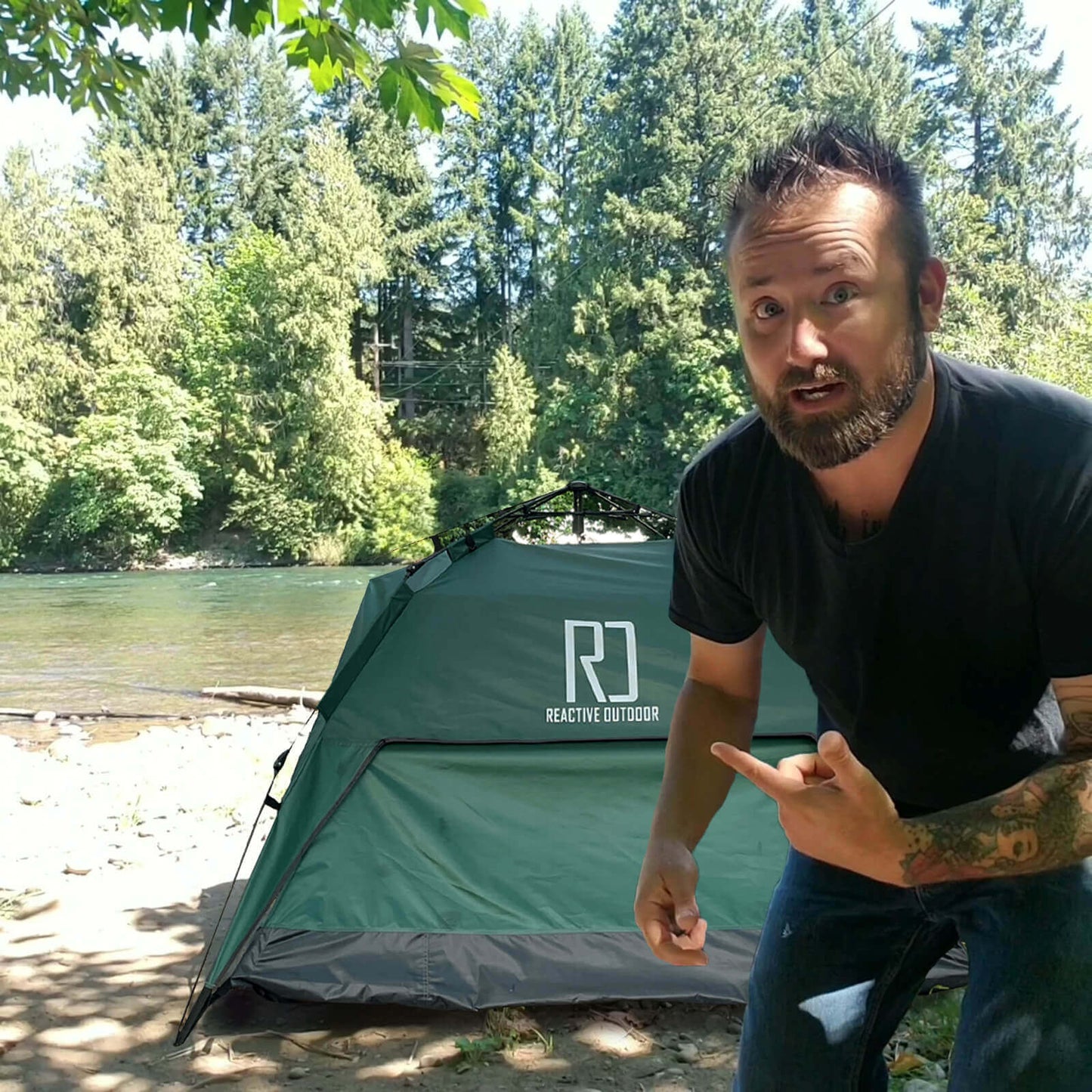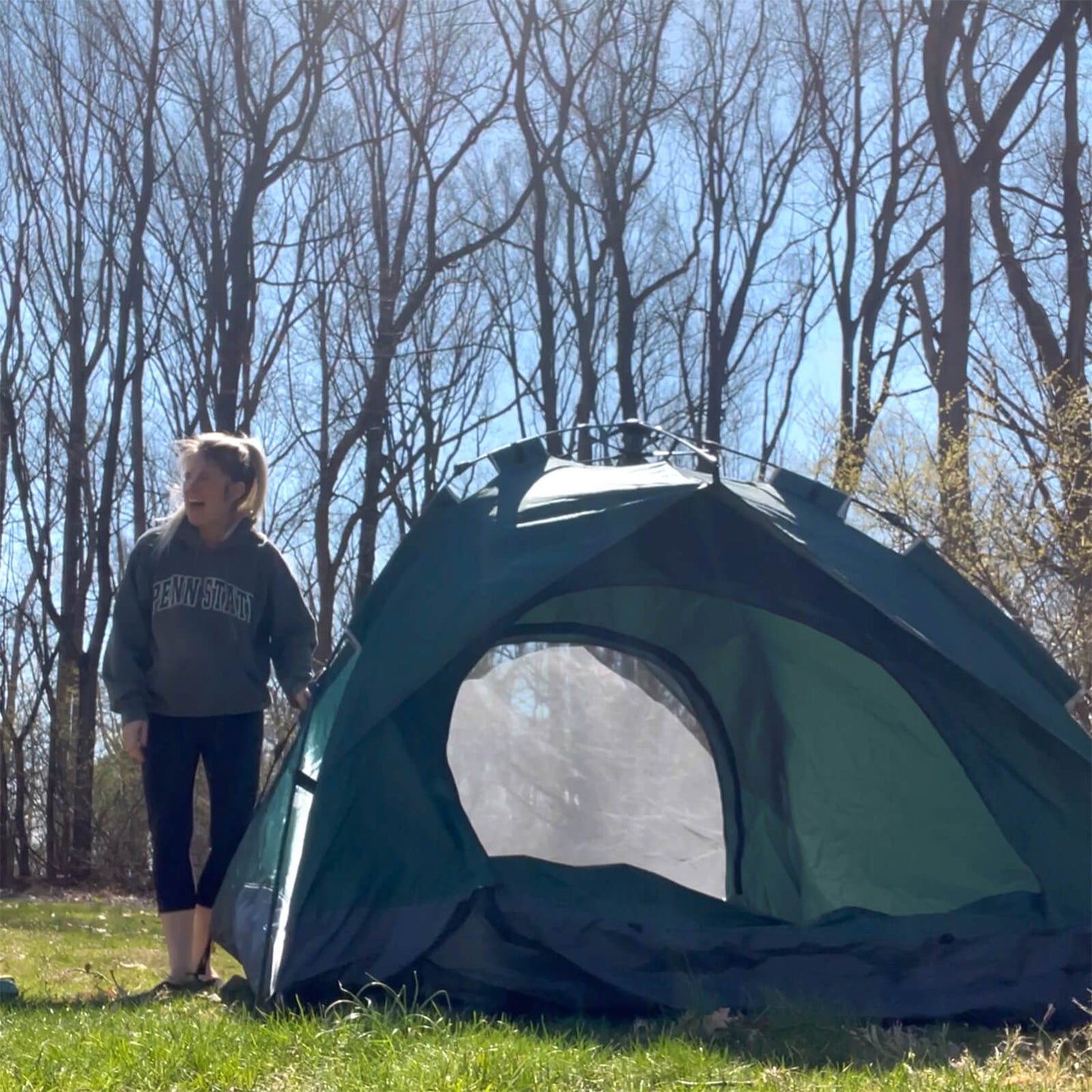 Frequently Asked Questions
Is this too good to be true?

It's just good! It absolutely works as easy as you've seen in our videos! It sets up and takes down in seconds! It's not just us, but it's in content posted by other campers as well!
What is the quality standard of 3 Secs Tent?

Yes! We have specifically designed this tent to be waterproof and rainproof! It also comes with a rainfly!
How heavy is the tent?

Small Tent: 7lbs (3.3kg) // Large Tent: 8lbs (3.7kg)
How popular is Reactive Outdoor's tent?

With around 56,000 tents grabbed by nature lovers, the 3 Secs Tent has made camping smooth for families across the world! To meet the growing demand, we've started shipping rapidly from our warehouses in Nevada (US), Birmingham (UK), Melbourne (AU) andNetherlands(EU)!
Can a queen-sized air bed fit in?

Yes,a standard queen-sized air bed can fit into the tent. (Standard Queen Size: 60" x 80" / 152cm x 203cm).
Does the tent come with ties, cord & pins to secure the tent to the ground?

Yes, a set of stakes and guy lines comes with every purchase. We'll also provide you a FREE carrying storage bag for your tent!
Where do you ship from?

All Reactive Outdoor orders ship directly from our warehouse in the lovely state of Nevada, USA!

For Australia and New Zealand customers, we will be shipping from our Melbourne warehouse!

For the UK, we will be shipping from our Birmingham warehouse!

For Europe, we will be shipping from our Venlo, Netherlands warehouse!
How long will it take for my order to arrive?

All orders will be dispatched from our warehouse within 2 business days. We have warehouses in the US, UK, EU and AU. Your orders will be dispatched from the nearest warehouse based on the address given during checkout.

We ship Monday through Friday, excluding weekends and holidays.

UK Domestic Shipping

Available UK Shipping Methods:

Standard Tracked Shipping: 2-3 business days.

Expedited Tracked Shipping: 1-2 business days.

We use Hermes and Yodel for your domestic delivery!

US Domestic Shipping

Available US Shipping Methods:

Standard Tracked Shipping: 2-4 business days.

Expedited Tracked Shipping: 1-3 business days.

We use a combination of FedEx and UPS, depending on the shipping address. Our system will automatically choose the fastest courier for your shipping address!

Europe Domestic Shipping

Available Europe Shipping Methods:

Insured Tracked Shipping: 2-5 business days.

We use DPD and GLS for your domestic delivery!

Australia Domestic Shipping

Available Australia Shipping Methods:

Standard Tracked Shipping: 3-7 business days. (7 days being Western Australia)

Expedited Tracked Shipping: 2-3 business days. (Longer if outside of the metropolitan area)

We use Australia Post for your domestic delivery!

If you do not receive your order within the estimated delivery time, please check your mailbox and tracking number, then contact us and we will make sure to get you camping in no time!
HIGH QUALITY

Manufactured with highest quality materials & manufacturing standards

FREE SHIPPING

We provide free US delivery on all our products

SECURE PAYMENT

Your payments are secure with 256bit secure SSL

30-DAY MONEY BACK GUARANTEE

You can simply contact our customer service and have them return your order